Article
The Fine Company of Fine Company
Say hello to the crew behind the brew at Fine Company!
They say it's good people who make good places. If that's the case, then there are not many better places than the Maritimes, because the people here are truly something special.
Made by Maritimers for Maritimers, we sat down with the Fine Company crew to learn more about their inspiration behind the brew and a look into their Quarter to Five!
So, tell us a bit about yourselves…
Guy – Technician
Hi, I'm Guy and I've been working at Molson for close to 9 years. It's a fun group to work with and we brew some great beer!
Chris – Technician
I've been here since 2015! I started as a production trainee and am now a technician. I mostly work on the brewing side with Neil, helping with all the technical elements and covering for all these old guys getting injured all the time 😉 .. not at work!
Neil – Brew Master
I've been here since the start, when the brewery opened in 2006, as a technician. In 2013, I took over brewing and got into quality as well. Now, the head brewmaster and love being able to be creative with our recipes and see the brand come together. It's funny, I go up to Petro Can the other day and a stranger asks me, "Do you work for Molson Coors, is it as good as I think it is?", I said absolutely.
Shawn – Technician
It's hard to believe it's been almost 9 years now! Like everyone else said, it's a great team to work with. I brew most of the time, days, nights, weekends, we do rotations. The beer doesn't know what day it is!
Angus – Technician
I've been here since day one! It's a great group of guys, there's no reason to leave when we're in this type of work environment. We work hard, we play hard. We plan events, golf trips, fishing trips. It isn't just guys that go into work for 8 hours and never see each other, we're hanging out outside of work and are actually friends.
What is your Quarter to Five?
For us, it Thursday afternoons when we stop in the hospitality room within the brewery and have a beer with the guys before we head home. It's our way to wind down.
When we first started at the brewery, that room pretty much kept people here. After long days, just being able to sit down and talk to someone who can relate is a great way for us to relax and then head home. Beer is so social! It gives us time to tell stories… these days it's ones the guys have heard 50 times already hahaha, and it creates a very social atmosphere.
Our Quarter To Five is definitely one of the benefits of beer company. Imagine we worked at a milk company… just sitting around drinking milk… like, ok let me grab a glass of milk and we'll hang out!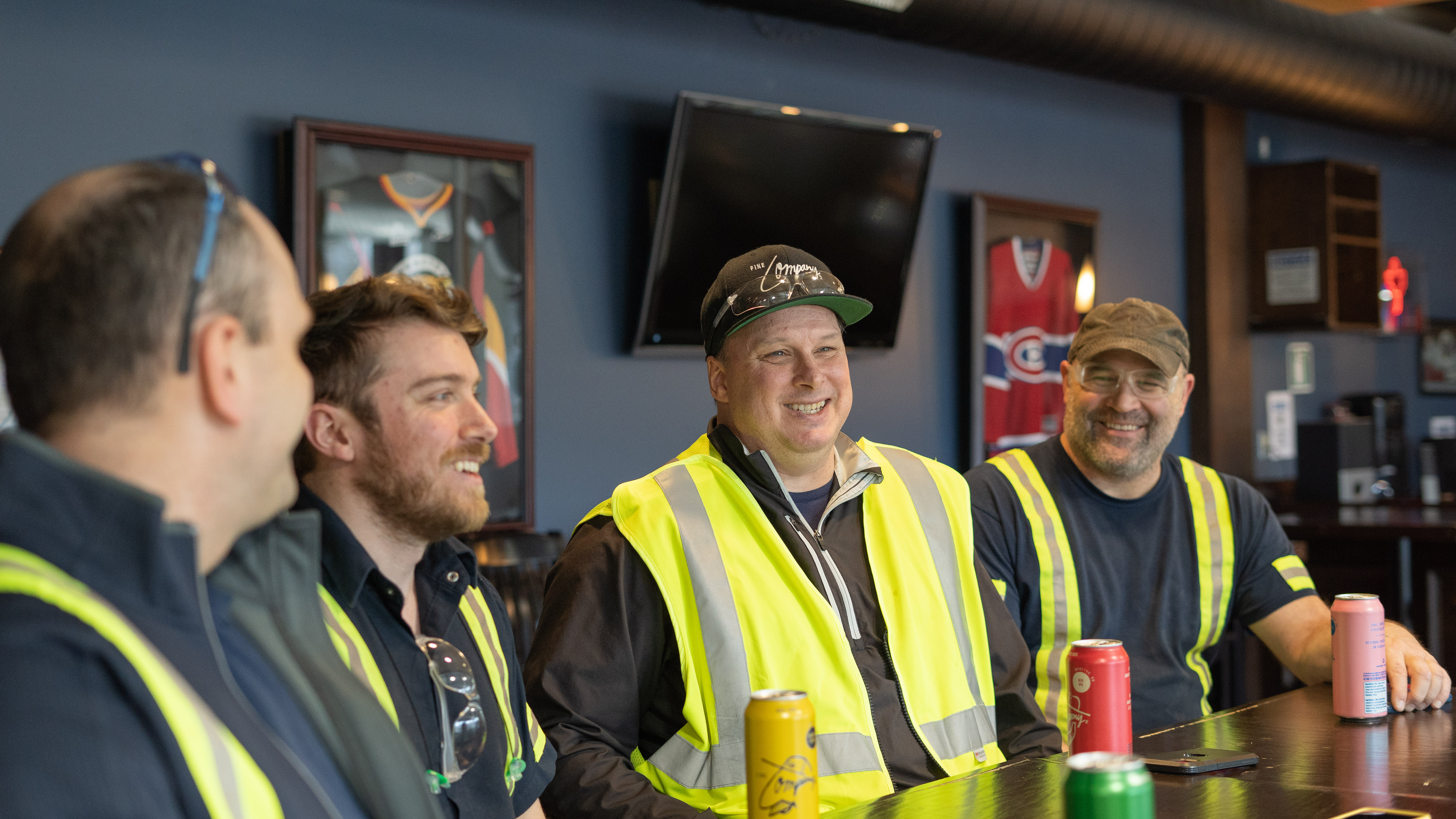 What's your favourite Fine Co. beer?
Guy – For me, it's the Session IPA because of the Mosaic and Citra hops. When I want something refreshing I like the flavour of the hops and for the ingredients to really shine through.
Chris – I'm torn between the Session IPA and Red IPA. The Session IPA is very sessionable and easy to drink anytime, while the Red IPA has a little heavier, maltiness to it. I guess I'd choose Session IPA on a hot day and the Red IPA during colder times.
Neil – Definitely the Red IPA, I really like the taste of it. But, that Radler is also VERY good and thirst quenching, perfect for if I'm golfing. It is not quite as sweet as some of the other ones out there in the market, I really enjoy that it isn't as sweet and gives off a bit more zest to it.
Shawn – I'm not really a "hoppy" guy, so definitely the Radler or the Blonde. With a steak dinner I would pair it with the Red IPA.
Angus – For me personally, I'm an IPA guy. I was so excited when we started doing IPAs here and got away from the mainstream brands. I love to try and taste competitor products to see what we are standing up against. The one benefit with the beer business is you get to taste and try so many different beers to see what fits your pallet the best!
What is one thing you want everyone to know about Fine Company?
We're always up to try something new here! The basis of the brand is about humans and we take that into consideration for everything we do. We're always testing and looking for feedback, trying to create the best experiences for people. We take pride in knowing that our beer is so true to the people who are literally putting the liquid in the cans.
Fine Co. is Moncton made and we are the ones who make it. It's as crafty as any other craft breweries. It's a brand that is unique to the east coast with our own special recipes. We did a lot of work to put the spirit of the Maritimes into our brewery.